Please support this service by visiting our Sponsors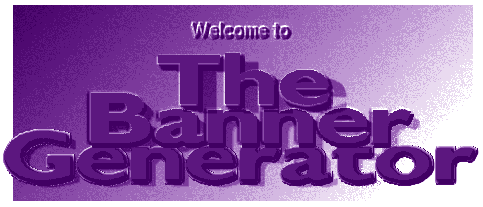 The Banner Generator is a free service to let you create graphical banners for your web-pages. If you get stuck, please check the Frequently Asked Questions and the Instructions.
An intranet portal version of The Banner Generator is available for companies that need to make large batches of custom banners quickly. Please contact us for more information.
3 / 3 / 03 The Banner Generator will be down while we do some server upgrades, ending March 11 or so. Improved features will include more fonts, faster speed, and a cleaner look.

1 / 30 / 02 The server load on The Banner Generator is currently:

1 / 27 / 02 Engine is back up. We are working on making it more stable. We will be doubling its memory within a few days. Please be patient with our banner-making server; it is under a lot of load!
12 / 11 / 01
The server problem that has been making The Banner Generator go down every few days has been fixed permanently.

4 / 15 / 00
Register for PayPal and they will give you $5, plus $5 for every friend you refer to them. PayPal is the world's first email payment service. Use them to email money or send personal bills to anyone online-- it's fast, free, and secure.

11 / 3 / 99
You'll be happy to see a new mounting feature: Mounting by Location. You can center your banner, put it at the top-left, center-right, bottom-center, or any of 5 other positions on your background.

8 / 27 / 98
Visit ISPcheck. They find great deals for you, and you help to support The Banner Generator.
Check out YOUR area-code regularly for updates.

6 / 18 / 98
Coder.com suffered a DNS outage because Internic (Network Solutions Inc.), the company responsible for maintaining the DNS registry for .com domains, did not change our registration information properly or in a timely fashion. We have written up more information so that other website owners need not suffer the frustrations we have experienced.

5 / 11 / 98
WebTV users-- Check out these tips to use The Banner Generator with WebTV.
WebTV tips.
Place this graphic on your pages! Use this HTML code:
<A HREF=http://www.coder.com/creations/banner/&GT;
<IMG SRC=http://www.coder.com/graphics/banner-tag.gif&GT;
&LT;/A&GT;

Make a Banner!
To create a banner, link here or you can choose "Activate" from the menubar or from the list below.
Acknowledgments
The Banner Generator relies on ImageMagick (copyright) as an engine for all its graphics routines. ImageMagick was written by John Cristy and is a remarkable package without which The Banner Generator would not exist.
[banner] -- [activate] -- [examples] -- [documentation] -- [related services]
[Sponsorship Information]
---
Privacy Policy / Send feedback with your questions and suggestions.
Copyright (©) Prescient Code Solutions / info@coder.com / Page last modified 3/3/03.